As most of you are already aware, the Wikidocs documentation of ColdFusion has been moved to a new location: http://helpx.adobe.com/coldfusion/home.html.
When you access the Wikidocs site using http, it redirects you to the new site. However, if you bookmarked the https Wikidocs URL (https://wikidocs.adobe.com) and try to hit the link, you get a message similar to "Your connection is not private" or "This connection is not trusted". In such cases, depending on the browser you use, follow the instructions (provided for couple of browsers as of now) as below:
On Firefox browser
1. When you access the https URL, a pop-up dialog appears as shown below. Click I understand the Risks and click Add Exception.
2. Add Security Exception dialog appears. Click Confirm Security Exception as shown in the dialog below to start accessing new location URL
On Google Chrome browser
1. When you access the https URL, a pop-up dialog appears as shown below. Click Advanced.
2. Click Proceed to wikidocs.adobe.com in the following dialog to start accessing the new location URL.
---
If you have setup cluster and tried to use charting in ColdFusion 8/9/10, sometimes you would have received "Image Expired" message instead of showing the chart.
Charting engine runs into this problem for two reasons.
1. The scripts generated by the designer use indirect method for image retrieval, meaning that the image is
produced during page processing and is placed in cache to be retrieved by the browser.

After some period of time depending upon cache settings the image is destroyed. "Image Expired" message
tells you that the image requested by the browser is not in the server cache.
To fix this issue you might want
to change cache settings(webcharts3D.xml under cfusion\lib).
2) In some cases the reason is that one component is uesd to create the image, but another component is used to retrieve it.
In ColdFusion cluster's case exactly this is what it happens when sticky sessions are not enabled.
So, make sure that you enable sticky session so that the a particular request comes and is servered from the same server.
After enabling sticky session make sure to restart the web server and ColdFusion server.
Hope this is helpful.
---
ColdFusion documentation goes live at http://helpx.adobe.com/coldfusion/home.html 
For the last two years, we have had a wiki-based model for ColdFusion documentation, with some of the revered ColdFusion experts in the industry editing the documentation and helping us keep it fresh and up-to-date. I am sure a large number of us have benefited from meaningful code samples and other documentation input that ColdFusion community experts shared. We would like to thank each of our ColdFusion community experts for their involvement and selfless commitment. We would like to specifically shout out a BIG THANK YOU to Adam Cameron, Aaron Neff, Charlie Arehart, and Raymond Camden.  Not to forget, Dave Ferguson, Carl Von Stetten, Adam Tuttle, Peter Freitag, Steve Blades, Matt Dyer, Kev McCabe, Sam Farmer, Andrew Myers, Matt Busche, Nicholas Tunney, Ryan Guill and Steven Neiland for the value add they have provided.
However, we have had several issues with the wiki service and implementation, causing us to look for a better solution. Owing to this, we are constrained to move away from the wiki model temporarily. Having said that, please rest assured that we are diligently working toward evaluating various options and we will partner with ColdFusion community experts to set the right collaborative authoring process.
In the meantime, we most certainly want to continue seeking the expertise of ColdFusion community experts in adding value to ColdFusion documentation. We request you to continue interacting with us through https://forums.adobe.com/community/coldfusion/documentation. We will now closely monitor the forums threads and will update the documentation accordingly. You could also leave your feedback on every help page using the yellow ticker that says "Was this Helpful?".  
We will review each comment that is posted using this ticker. You can also directly reach us at the email alias chl-cf@adobe.com. We are eager to continue our collaboration with you and hence we are making several means available for you to continue providing your valuable input.
We look forward to your continued support as we navigate through the temporary changes. Thank you once again for being so supportive of us in keeping ~4000 pages of ColdFusion documentation updated and useful to the community.
---
We want to give a shout out and a huge thank you to our initial Sponsors for Adobe ColdFusion Summit 2015!
It's an honor for us to have these partners represented at the largest Adobe developer conference.  They are both experts in the ColdFusion space and great to work with!

Since the 90's, Intergral has been providing innovative products, enterprise scale software solutions and IT Services to thousands of customers across the globe. We are an established provider of Application Performance Monitoring (APM) and analysis tools with over 12,000 products sold to customers from all over the world. Our products reflect our technical expertise, high focus on usability, commitment to quality and complete attention to detail.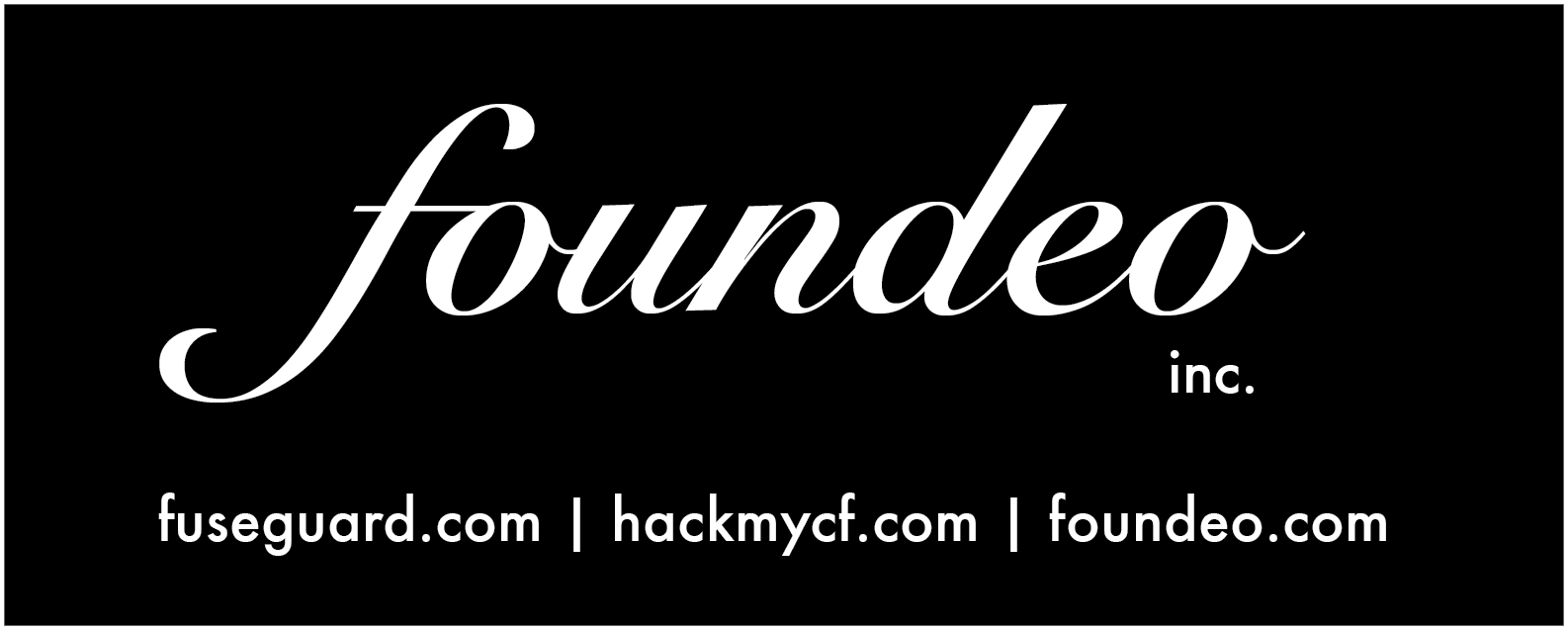 Foundeo is a company based in Upstate New York that builds products for web developers and provides expert web consulting services.
Our goal at Foundeo is to provide easy to use software products and services that make your job easier.
At Media3, we don't sell cloud hosting. We help businesses and organizations buy it. What's the difference? A big one actually. 
When we help you buy cloud services, we listen carefully to what you have to say, we listen to what you want and your business needs, today and in the future. Then we make professional recommendations and help you find the right solution with the right budget. 
Honestly, patiently, and without pressure. 
If you're interested in sponsoring at this year's conference, please see the sponsorship page of the web site here: https://cfsummit.adobeevents.com/sponsors-coming-soon
---
By now you all know about the upcoming ColdFusion Summit Conference in November (9th &10th).  If not, register now with the latest discount code still active through the end of September: http://blogs.coldfusion.com/post.cfm/discount-code-extended-for-20-off-coldfusion-summit-20years4cf 
We are also doing something different this year by offering a full day of hands on labs in a pre-conference workshop on November 8th, the day before Adobe ColdFusion Summit starts.  These hands on labs will be separated into two half day sessions.  The first half of the day will be focused on Security, and the second half of the day will focus on best practices in development.  It's a great opportunity to receive a full day of training in a lab/walkthrough experience.  
Where:
Aria Resort & Casino
When:
November 8th 9am to 5pm
Pricing:
$99 if you are already registered for Adobe ColdFusion Summit
$149 if you are not registered for Adobe ColdFusion Summit
** Includes breakfast and lunch **
To register and for more information on the session descriptions please see the website here: https://cf15workshop.attendease.com/
* The workshops site above is a completely separate site from the ColdFusion Summit Conference
Session descriptions posted here: https://cf15workshop.attendease.com/schedule/sessions  
The only downside is that the capacity for the workshop is extremely limited, so please don't wait to register.  
Looking forward to seeing you there!
---